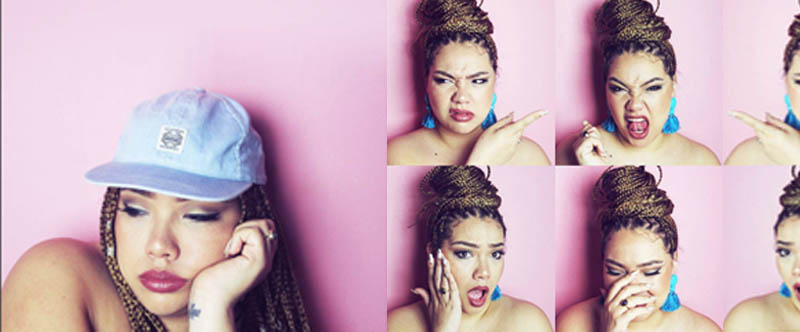 Interview and article by Alice Galand
Lalaa Misaki is a parisian blogger with a radiant personality. She takes sharing her love for fashion with her followers to heart. Also a plus size model, she offers a vision of fashion and of the female body that celebrates the notions of freedom, play and well-being. It's with her usual good mood and straightforwardness that she agreed to tell us more about how she considers colors and manages her mood.
You're wearing the ring Moon, named after the night star, which is a good match for you. Indeed you claim with humor that you're from another planet ! What makes you original in your  opinion, what makes you feel that you step up compared to the others beauty & fashion bloggers?
LOL I love this question, indeed I often claim myself to be an « alien » because I don't recognize myself in this over formatted society. I want to live my own dream, create my own rules, it's not always easy but nothing is more important than freedom ! Now asking what makes me different from the other bloggers, I don't know, maybe my rebellious and provocative side.
Your looks are inspired from a lot of different styles (arty, street, romantic, casual…). How do you pick what you'd like to wear on a daily basis?
I'm such a mood kind of girl, I love everything that surrounds me and I prohibit absolutely nothing. If I like it, I wear it, but always with my personal touch.
We can distinguish a wide range of colors on your instagram account. We can find colorful associations in your style, but also in your make-up and hair style. What is the role of color in your personal universe?
Color is life and it is important to me to share it, I can't stand monochromatic instagram accounts anymore where the girls prohibit color fearing that they won't get likes or to destroy their feed.
Do you see color like a game, a criteria, a way to showcase your body?
For me, life, fashion and all that surround me is a game, I don't care that the colorimetry says that such or such color doesn't match me, if I find myself pretty with it, it's the most important !
In 3 words, how would you define the concept behind Me & My Mood jewelery?
If I had to define the concept of Me & My Mood I would say : Authentic, Pure, Astral.
One of your many jobs is to be a model. When you have to pose for photoshoots, are you rather excited or rather nervous ?
At first I was a little bit nervous, especially for the lingerie's test, but at the end with time I'm feeling quite zen. I enjoy the moment and finally the pictures are even beautifuller.
You seem to have a naturally explosive and very expressive temperament, how do you manage your moods, whether you are upset or completely thrilled by something ? Do your moods give a nice boost to your creativity ?
We can see all these through pictures ? #damnit #lol It's true that we often say to me that we can read me like an open book, I can't hide my feelings, especially on my face. Whatever emotions I'm going through I develop my creativity at any time, now it is also true that in stressful period I am poorly organised.
Thank you Lalaa!

Follow Lalaa on her blog,

lalaamisaki.com

 and on her instagram account

@lalaamisaki

!

Alice Galand is a journalist and author of the cultural and slow life philosophical blog  " La Promenade Inopinée" : lapromenadeinopinée.com