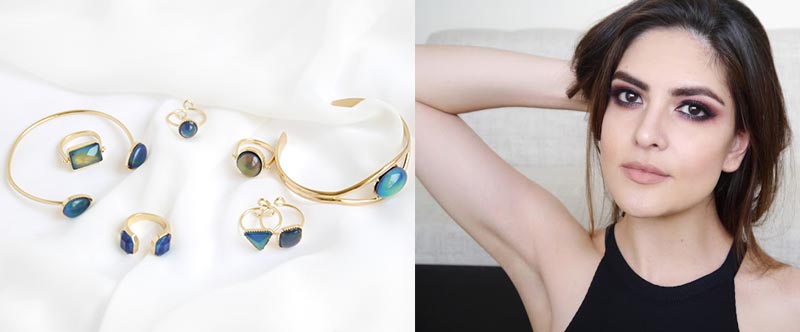 Interview and article by Alice Galand
Behind Noirette Diary Blog is a young Mexican graphic designer named Siham, with a strong interest in the world of beauty. Very familiar with color theories through her business line:Siham borrows from an aesthetic involving touches of colors in order to sublime her pics on Instagram. In her daily life, she shows her feelings through colors, and it seemed quite natural that she wanted to discover the Me & My Mood concept, which includes different jewels that can change colors depending on your moods during the day.
The ring you're wearing is called Callisto from a mythological nymph famous for her great beauty. How did you get into the universe of Beauty?
I started to get into beauty much later in my life as you might think. It was around my 20s that I started taking my makeup more seriously and began to wear something else than just mascara and a hint of black liner. I started to get more interested in makeup and beauty throughout the years by reading other blogs or watching videos on YouTube, I think I've learnt most of the things that I know from there.
As a beauty addict, which product makes you feel always in a great mood when you use it? Why?
Definitely lipstick, there's nothing better to make you look more pulled together if you're having a tough day. It's definitely my favorite makeup product to purchase as well.
We can see that your instagram's pictures have a tendency to be in neutral tones with a twist of red and rose most of the time, how would you characterize your relationship with colors?
As a Graphic Designer, I'm very familiarized with color theory. I like my Instagram feed to look mostly monochromatic but leaving things in black and white would be a little dull for a beauty account. I try to add "girly" colors that fit the aesthetic of the beauty world, colors that will pop beautifully in simple photos. As I mentioned before, my favorite makeup product is lipstick, I think a lot has to do with the fact that I relate the color red to a happy mood, since I like to wear red lips on bad days. I tend to navigate in that color scheme to add brightness and life to my photos.
Does your job as graphic designer transform your vision of colours and the way you stage them in your life? What do you love the most about the jewellery line of Me & My Mood?
It has a great impact on my life for sure. I channel a lot of my emotions with color, either on my clothes, my makeup, or my photos. If I'm feeling calm, I'm most likely to wear blue or soft pink shades; if I'm a lot happier or excited, I go for bold and vibrant colors, like reds or yellows. I love that Me & My Mood can fit with my style, I'm a lot into dainty jewelry pieces and to think that I can incorporate them to my mood sounds perfect.
The Callisto ring turns blue ! You're feeling relaxed. Have you a signature parfume which makes you feel calm and confident through the day?
I think this is my mood most of the times, I always relate calm and relaxing situations to fruity and floral scents. I love Clinique Happy and Loverdose by Diesel, these two are the sweetest perfumes that I have and I think they help a lot to amp up my mood in the mornings.
Talking about relaxation, 3 tips to feeling good during your everyday life and keeping your ring on blue mood?
I'm sure that a good day starts from the moment that you open your eyes. It's always best to stay at least 5 minutes in bed before really starting the day, it gives you time to relax and think of what you're going to do the rest of the day and organize with anticipation. Throughout the day I like to  have a few minutes to pamper myself or just get away from work for a while, a little distraction keeps me very calm and relaxed.
On your blog it seems that you put a special care, with a more elaborated editing style, to the looks created around the colored wigs. Does the color allow you to compose a different person for a moment or represent your feelings for instance?
Absolutely! Those looks are more inspired by a fictional character that I create in my mind before doing the whole look. I like to wear wigs to step out of my comfort zone when it comes to makeup and experiment with looks that I would never wear being myself. In a very recent post I'm wearing a pink wig, the colors in the eye makeup and the wig itself and much more vibrant and bolder than the rest, I wanted to channel a happy and girly character. On an older post, I featured a short dark wig that made me think of a more mysterious and sophisticated character, I wore a more intense makeup and darker colors to compliment that mood.
Thank you Siham!
Follow Siham on her blog, Noirette Diary noirettediary.com and on her instagram account @sihamhamdan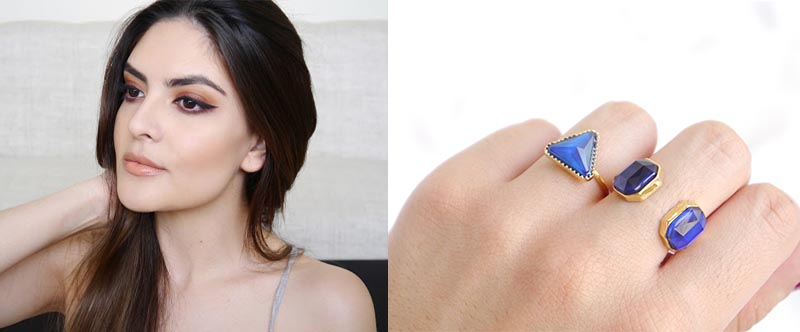 Alice Galand is a journalist and author of the cultural and slow life philosophical blog  " La Promenade Inopinée" : lapromenadeinopinee.com